This slideshow requires JavaScript.
Photos: Monday night's win in Philadelphia
For more of Joe Petruccio's amazing Mets artwork, check out his blog here.
"Buck Wild!"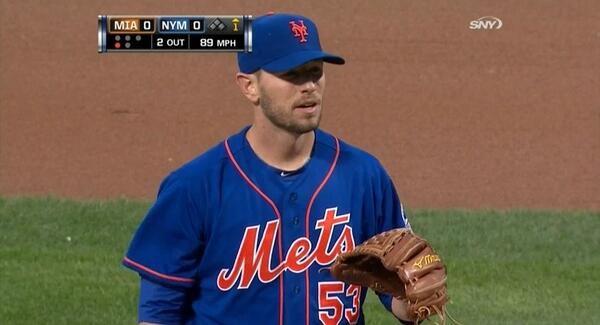 Michael Baron, Contributor
These jerseys look fantastic. It's a nice, clean and classy look. The Mets said last year they missed the cutoff for MLB to approve these jerseys for 2012, which is why they didn't make their debut until this season.
They're just like the "Los Mets" jerseys from 2011, which were equally as awesome. Last year, the Mets tried a "Los Mets" jersey with white lettering, and it just didn't have the same contrasting look these do with the orange lettering. I think it's a perfect look with the solid white pants, although I'm not sure how they would look with their pinstripe pants. I hope they wear these on a regular basis, both at home and on the road…
(Photo courtesy of the Las Vegas 51s on Facebook)
Photos: Wheeler and d'Arnaud in Las Vegas
(Collage courtesy of MetsBlog's Michael Baron)
Photo: John Buck dives into home
This slideshow requires JavaScript.
Michael Baron's Opening Day photo gallery
Michael Baron, Contributor
Buck's helmet is fantastic. I almost don't want him to use it because it looks so good…
I talked to Buck about his helmet last week and he said he had only seen the artist rendering of the helmet, and wouldn't get to see it until he arrived in New York. After the game yesterday, we talked about it again and he said he loved the end result. The design of the helmet is inspired by the fans. He took suggestions from people on Twitter and Instagram, and the design is a composite of all of the suggestions he received. At the end of the year, he said he will sell the helmet off for charity.
---
To follow Buck on Twitter, click here. To follow him on Instagram, click here.
Thanks to Mark Healey and Robert Brender for the image.
BBWAA cover for NY awards in 2012
This photo was posted to Twitter by @TheRoar24 and retweeted by @MLBFanCave:
Matthew Cerrone, Lead Writer
Historically, I have not been a big fan of the WBC. However, David Wright's performance and presence this time around is pulling me in. More than that, though, it's nice to see him be a source of pride for Mets fans, as opposed to a polarizing figure (clutch vs. unclutch, leader vs. loser, etc.). I think this demonstrates how productive and influential he can be when surrounded by good players (albeit, the best players). Also, I love that he is garnering national attention in such a fun way. MLB is presenting him as the leader of this incredible team; this Captain America meme is starting to stick; and that's great for him and great for the Mets.
Michael Baron, Contributor
Matt den Dekker is a magnificent center fielder. He has demonstrated it on several occasions this spring, last spring, and throughout his professional career. He is a human highlight reel out there, and is very fun to watch. He has taken advantage of Kirk Nieuwenhuis' injury this week – den Dekker has gotten a lot of playing time in Nieuwenhuis' absence.
Here's the thing: does den Dekker's tremendous defense alone make him the best option in center field? This is a lineup which could struggle to score runs; the Mets need to find as many ways as possible to limit the damage and save runs from the opposition, and den Dekker's defense could go a long way towards accomplishing that. In addition, he could help cover ground and make up for the questionable defense from Lucas Duda in left field, and whomever is manning right field – that is an underrated quality which is not always talked about, yet it's crucially important.
The issue with den Dekker is his bat, and whether or not he can cut down his strikeouts. He does hit for power, and has done so at every level he has played at after an adjustment period. But the strikeouts have been a problem for den Dekker at every level, and that could ultimately sink him at the big league level.
Dave Hudgens has been working closely with den Dekker this spring to track and better identify pitches, and adjust off the pitches in the weak part of his hitting zone. Still, den Dekker had seven strikeouts in 20 at-bats coming into Grapefruit League play today, so it's clear he still has work to do. But, the Mets could choose to roll the dice with his bat and hope it comes around with the expectation he will shore up an outfield which has a ton of questions, and not many answers.
There are other challenges with promoting den Dekker, besides his offense. He isn't on the 40-man roster, and the Mets are already in a position where they're going to have to make some tough decisions to add guys like Marlon Byrd, Omar Quintanilla, Greg Burke, Latroy Hawkins, Pedro Feliciano and Scott Atchison to the roster. The reason for that is they've had to add a lot of guys to the 40-man roster over the last few seasons so to protect them from the Rule 5 draft (Wilmer Flores, Zack Wheeler, Darin Gorski, just to name a few). Adding den Dekker for Opening Day could present a problem the Mets simply don't have a solution to right now.
That doesn't mean the Mets won't find a way to promote den Dekker if he ultimately earns it, but it seems as though one of the biggest problems is there simply might not be any room for him right now.
---
Hat tip to SNY's Peter Wade for the image.
For more photos from the Mets 3-2 loss to the Tigers on Friday, check out Michael Baron's gallery for SNY.TV here.